Oakland Technical High School
Class Of 1960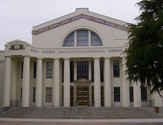 Message Forum
| | | |
| --- | --- | --- |
| | | |
05/10/10 04:19 PM
#4

Hello!!!

This is the smoothest website I have ever used. My daughter tells me I am part of the dinosaur age when it comes to communication technology...but I feel like a pro using this website! THANK YOU to whomever worked this out for us. I believe that if it stays up and running even after the reunion we will be using this as a means to reconnect with each other. After all, the only thing any of us really "have" are our relationships, RIGHT??!!!

And just think, if it had not been for Cecil Childress finding me on Facebook, I would never have known there is a 50th reunion celebration. Thank you, Cecil. I mention this "accident" on Cecil's part for any of you who may know where someone is and can contact them and tell them of this website and the reunion.

I, too, am saddened for those of us that have already passed on and I/we didn't even get an opportunity to say our farewells.

Please, take care for any of you that are reading this message....and I hope to see you ar our 50th!!

Loving you all,

Judy Skarsten

P.S. I notice that Barbara Sciutto is not on our class list. Does anyone know how to contact her? I JUST LOOKED AGAIN AT THE CLASS LIST AND FOUND BARBARA'S NAME. THANK YOU ANYWAY!!!!!! :)
06/03/10 08:26 AM
#5

Hi all !

I'm sending my very best wishes to all of you.....especially those attending the reunion. I won't be able to go this time, but please know that I will be there in spirit.

Love this website....and thanks to all for keeping it going.

Hugs to everyone!

Linda Haynes
06/06/10 05:47 PM
#6

I just wanted to take the time to thank the committee that worked on the reunion. I had only been to the 20th and was not sure if I wanted to attend the 50th. It is nice there are people willing to take there personal time to do all the work that this involves. I had a wonderful time and especially enjoyed seeing my Peralta friends. Thank you very much!
06/07/10 06:49 PM
#7

I just returned home from our 50th Reunion and wanted to thank the committee for the wonderful job that they did. It was great to see so many former Technites and I look forward to more reunions. It was sad to see how many of our classmates have passed away. I particularly miss drummer Dave Costa (we were in band, orchestra. and dance band together) and my fellow uniform custodian Robinette Bridges who played bass clarinet in band.
06/08/10 09:08 AM
#8

What a great reunion....

Again a special thanks to Sherry and her committe, for their hard work and organization. The food was delicious, the DJ and music were great, and the Class of "60" in attendance made the evening special

.

Everyone seemed to be enjoying themselves, as the loud chatter lasted through out the evening, and the dance floor was a popular spot. It is such fun to see all our old classmates and "catch up"

.

Thanks again

for the great evening.
06/09/10 07:40 AM
#9

I AGREE WITH THE OTHERS... THE REUNION WAS A GREAT SUCCESS.. THANKS TO A MOST WONDERFUL COMMITTE...THE FOOD WAS GOOD.. THE MUSIC SURE BROUGHT ME BACK 50 YEARS.. BITTERSWEET.. SEEING ALL OF YOU WITH 50 YEARS OF LIFE BETWEEN THEN AND NOW WAS SOMETHING ELSE!!!!

LOOKING FORWARD TO OUR NEXT.. WILL IT BE IN 5 OR 10 YEARS????

FRANCINE
06/09/10 09:52 AM
#10

A big THANK YOU to our Reunion Committee for this great website and for this great 50th reunion party. It was well planned and a lot of fun. Your time and hard work was very much appreciated.

It was wonderful seeing so many classmates and sharing memories. I was especially happy to reconnect with so many of my Peralta elementary school classmates with whom I share memories going back 60+ years.

May the class of 1960 keep going strong! May God bless you.
06/19/10 10:18 AM
#11

The 50th reunion was such a success, I electric slided right into the ER! What a way to end the evening! Looking forward to our next adventure in five years--Hugs to all!
06/19/10 08:22 PM
#12

Donald Cooper (Legal Name Is Tuck)

my first reunion was so great!

I connected to my best friends at Oakland Tech and got to know many people, that I somewhat remembered. I was surprised at how good everyone looked.Sherry,Susan and all the others that made this happen I Thank You.

The food,music and of course a big treat of Ron Williams tribute to MLK was a real winner.The main drawback was that you couldn't be on the dance floor and talking to friends at the same time.

We could think about a pot luck in a few years! What do you think?
04/24/15 01:11 PM
#13

I'm so sorry I missed the Reunion. My memories of all of you are still vividly on my mind. I enjoyed seeing old friends at previous Reunnions and wish I could get back home more often. I live in Portland Oregon now and the wether sucks. Besides the weather I mis my dear friends from the past. With more times on my hands I think of the moments of walking down the halls football and trackk meets Mr. Tranchini Joe Oneal the coach, Rovai Orchestra Glee Club,and all the teachers that put up with our bull sh... My mother went to Tech and so did her friends. Thanks Sherry and Ron for trying to keep us all in touch. Now that I'm not working I welcome all of you to email me,talk to me on this sight and to facebook me. I miss you all.
08/30/16 10:35 AM
#14

Steve Cuthbert is buried in the Presidio Cemetery in San Francisco. Steve was a friend beginning in the 7th grade at Claremont and continued through college. A great guy!! I miss him. Tom Bruno
08/31/16 09:05 AM
#15

Several years ago I visited the the California Vietnam Veterans Memorial which is located in the north-east corner of the State Capitol grounds in Sacramento. Steve is one of 5,657 names inscribed on the memorial.
08/31/16 01:20 PM
#16

Thank for all the information on Steves death and his service in the air force, I went to Claremont and Tech so I knew Steve.
02/13/17 10:22 AM
#17

Shocked to learn that my old friend Hal Cronkite passed away last year. I last spoke with Hal 6 yrs ago. If anyone has any insight on his demise, I would appreciate hearing from you. Thanks, Larry Bergold
02/14/17 02:30 PM
#18

Sorry to hear about Hal. It seem I receive emails about one of our class mates often. Just a week ago or so I received one about Dave Moore. Thanks for the email, Jim.
09/09/19 10:54 PM
#19

So many of us went to Claremont Jr. Hi and then Oakland Tech. I felt that Claremont, it's teachers and my fellow classmates, prepared us for high school. How many remember passing "Peyton Place" around, just reading the "interesting parts," passing the book from hand to hand? I recall playing basketball, baseball, being in a science class where the teacher disected a cow's eye, being in math class where we learned a little about the stock market and then the teacher played his guitar and sang about th "Old Woman Who Swallowed a Fly," taking the Constitution test, and practicing getting under our desks for a an atomic bomb attack, and oh yes, Elvis Pressley! High School was so much bigger and we kind of lost the comaraderie of Claremont. I now look back, 50+ years, and am grateful for those years that we all shared before we knew what life was all about. Thank you for setting up this site so I can once in a while tune into and recall memories and look up faces in my yearbook.
09/10/19 12:09 PM
#20

Yes, I share those same memories. Also "fire drills" and PE dressing and showering. So much different than today's schools. All the things. Feeling a little sad that we are all getting so old. I hope you are in good health and have had a good life. I am and I have - with more living yet to do. Thanks for posting.
09/11/19 03:57 PM
#21

Happy Birthday
09/15/19 02:38 PM
#24

Hi Emilia,

I'm very sorry for your loss. At our age it's an inevitable part of life, somehow making life more meaninful than ever, but still bringing new challenges & even new opportunities for growth. I remember you from when you started at Peralta elementary, and your sharing what life had been like before coming to the US. I thought you were pretty brave, and it seems you still are. I'm glad you remain healthy, keep up the good work.

Sincerely,

Phyllis (Aboumrad) Arroyo
09/18/19 12:50 PM
#25

Thanks for remembering things from so long ago. Though I keep in touch and visit my famiy in Hungary, I am so grateful for all the US has given me, and the wonderful people who have touched my life. I am 100% American now, I vote, and sometimes participate in community events to put feet on my appreciation. I still have the photos sent to me before our 50th reunion, us from Peralta. God Bless us all.
09/19/19 08:11 AM
#26

Emilia - I have many memories of the choir trip to the Squaw Valley Olympics. What an amazing opportunity for us! I can almost still sing the Olympic Hymn!
09/20/19 08:04 AM
#27

How is everybody doing, glad to hear from you all.
02/27/20 05:28 AM
#28

Hey, Classmates of '60! This is Munich calling!!!...Following what's happening over there from over here is Friggin' SCARY!!!! I hope, NO,...I KNOW you ALL, regardless of being Red or Blue, will do the RIGHT THING in November and help stop that "Orange-Vain-Glorious-Racist-Blow-Hard" in the WH and his angry cult from destroying the soul of our country!....Friends, It's our LAST chance..... I hope to get over for the next Class reunion. Stay safe! Soulful Greetings, Ron👍🏾(www.ron-Williams.de)